Discussion Starter
•
#1
•
Both installed in about an hour and a half, thanks to a co-worker who used to work for Brabus.
Intake: During the intake install we didn't remove the windshield wiper cowl as per the instructions. It is a bit tighter working space but it can be done with the right extensions and swivel adapter (Make sure the engine is cool before reaching behind and around the turbo in the tighter space). We unlocked the coolant reservoir and rotated it to the front resting near the light for more room to unscrew the worm clamp to the turbo. We placed the silicon reducer coupler on the 3" intake end to the turbo first, then place the worm clamp on, then popped the narrowed reducer end on the top of the turbo. The rest was a piece of cake. Also, just use windex for the rubber silcone coupler to tube for easy fit. No need to buy silcone spray if you don't already have it.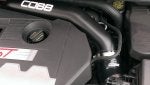 Shift Plate: The small roll pin for the shift weight took a bit of tapping. We started to bend the bolt they give you to push it through so we got a proper metal dowel and a small 2 lbs sledge and it came out. The rest was easy. I set it to 30% which feels great with the COBB shift knob.
I would recommend to get both at the same time as you do need to remove the filter box when you do the shift plate, just easier. The sound from the intake is much improved and you can hear the air rushing in a bit more when jumping on it. Very quite when cruising.
Nice job COBB on the mods. AP is next! Oh and, you didn't hear it from me but the COBB AP v3 is coming out in August.