Hey all,
So I got my ST1 a week ago and man I do love 2nd gear =) Here are pics of my new ride including the interior:
Exterior: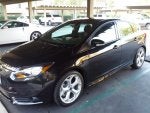 Interior: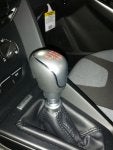 I plan to definitely install a new rear mount (e-cp or e-focus), oil catch can, and shim up the gas pedal for better heel-toe execution.
I'm going to see if I can get a dremel/die grinder and elongate the mounting holes in the hood latch to lessen that hood gap.
I'll also wait and see the various tunes that people are using from different tuners to see the which one would be good for me. I would love to get a new tune in the next 6 months.
Once Spring/Summer hits, I plan to get a tint.
There are no plans to change the suspension/wheels or exhaust/intake. I'm quite happy with the stock suspension setup as well as the wheels. as she is my daily driver
She handles amazingly well with the stock suspension.