Discussion Starter
·
#1
·
Yep folks yours truly (me) got the opportunity from Ford Performance to ride along with non other than Global Rallycross star Steve Arpin in a Chip Ganassi Racing / M-Sport GRC Ford Fiesta ST Supercar in Washington D.C. ....so I figured I would share .....
---------------------------
We were invited a week ago by Ford Performance to attend the Red Bull Global Rallycross in Washington D.C. for a ride along with Steve Arpin, driver of the "00" Eoneos, Loenbro, Chip Ganassi Racing , M-Sport built GRC Ford Fiesta.
Leaving NY in the wee hours of the morning we arrived in DC by 7:30am, and were greeted by Jordan, a representative of Ford Performance.
The sun was already baking the tarmac at the RFK Stadium, so it was certainly going to be a hot day, off & on the track!
We were originally scheduled to be 5th in line, and had already signed the waiver to the Red Bull GRC powers that be, while perusing the cars lined up for the ride along, we are called, and as destiny and the guy upstairs have a sense of humor, we were moved to be 1st on track …time to go suit up.
Now in an FIA approved sparco race suit and helmet, adorned with the blue oval name and ford performance, I now look even more the part. (big smile!)
Having attended many rally / rallycross events to photograph around the world over the years, I have only sat once before in a rally car…and back then they never came with 600 horsepower or a similar amount of torque! The last time that kind of power was around was when Group B was in World Rallying, and that was back in the 80's …1980's …I'm not that old (laughs)
Getting into a rally car is not too easy, …being a gymnast or yoga expert would of made it easier …alas I'm neither, so the body had to relearn a few new angles!
If you have never been to a GRC event, the driver also has an assistant, what did you say?…yes, he helps the driver especially with the harness (seatbelt). Its not the regular grab and click type in your family car, its a 4 or 5 point harness.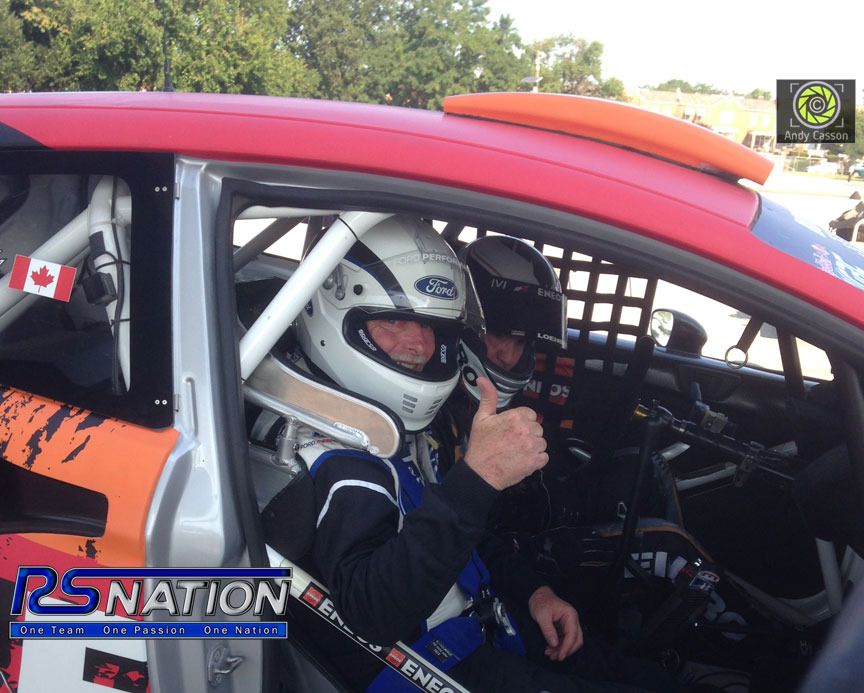 Read More/Photos :
GRC-ride-along-with-Steve-Arpin!
...